School remains closed. Our provision for children of Key Workers and our vulnerable pupils is being operated in collaboration with Newark Academy. Contact the school office for further information.
Admissions
Admissions
The documents below are those required by the DfE to be published on the website.
​
ADMISSIONS ARRANGEMENTS FOR YEAR 7 SEPTEMBER 2020 INTAKE
We are really excited to hear that your child (ren) will be joining us in September. To help make sure you have all the information you need to help make the transition from primary to secondary as smooth as possible, we've created this page which provides quick links to essential documents as well as some key dates. Take a look at the information provided here and browse our website but if you do have any further questions, please do not hesitate to contact our School Manager, Mrs Jo Braithwaite on 01636 957690.
Our first event for new starters will be our Spring Welcome Event (date to follow). At this event, you'll have a chance to meet some of our staff, speak to students and hear from the Headteacher. You'll also receive your Welcome Pack which includes the Parent Handbook, information about uniform and the Essential Information Forms that we'll need you to complete before term starts.
The Spring Welcome Event will be followed up with an induction evening on (date to follow) where students will have a chance to experience lessons, find out which House they are in and get to know some of their peers. There will also be a final chance to get your child measured up for their uniform – and don't forget, all new students for 2020-21 will receive a free uniform pack which includes our blazer, tie and PE Kit. For further information, click the link below.
Term starts on Tuesday 1st September 2020 for Year 7 students. The rest of the school will start on Thursday 3rd September. This means that all new Year 7s will have two orientation days in school led by their Form Tutors and our Senior Students.
Choosing the right school for your child's secondary education is a very important decision. Therefore, we encourage you to visit The Suthers School so that you can experience the difference for yourself.
As you will no doubt be aware, between now and April 2020, we are housed in temporary accommodation on the Toot Hill School site in Bingham. We would be happy to arrange for you and your child to have a tour of our temporary home at any time. If you would like to visit, please get in touch via nfriend@suthersschool.co.uk or call our admin team on 01636 957690.
As we look forward to the completion of our brand-new, purpose-built facility in Fernwood, Newark, there will also be a number of events taking place in Newark. To make sure you don't miss out and to keep up to date with all things Suthers, please register your interest here.
APPEALS
The Suthers School follows the Nottinghamshire County Council Admissions Arrangements. For more information please follow the links below
Secondary Appeals Timetable – 2020/21 Admissions Round
• Offer Date: 2 March 2020
• Deadline for lodging appeals: 30 March 2020
• Deadline for hearing on-time appeals: 16 June 2020
Note:- Appeals lodged after 30 March 2020 will, where possible, be heard by 16 June 2020. Where it is not possible to hear the appeal by 16 June 2020 it will be heard within 30 school days of the date of receipt.
Useful Links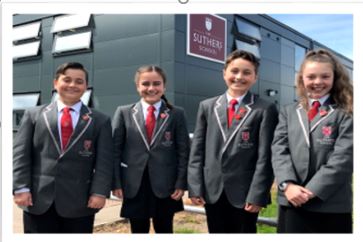 "It is an exceptional school in all aspects" Parent Voice, May 2018
July 2020
| M | T | W | T | F | WE |
| --- | --- | --- | --- | --- | --- |
| | | 1 | 2 | 3 | 4 |
| 6 | 7 | 8 | 9 | 10 | 11 |
| 13 | 14 | 15 | 16 | 17 | 18 |
| 20 | 21 | 22 | 23 | 24 | 25 |
| 27 | 28 | 29 | 30 | 31 | |