Pupil Premium
Pupil Premium
What is the Pupil Premium?
Pupil Premium funding is additional funding which is given to schools by the Government in order to give the most disadvantaged students the best start possible in education and in life. The funding is intended to directly benefit children who are eligible, raising attainment of the most disadvantaged pupils of all abilities and narrowing the gap between them and students from more advantaged backgrounds.
Nationally, there is a clear divide between these two groups of students. There is overwhelming evidence that disadvantaged students achieve and progress at a slower rate than those from more privileged backgrounds:
Children from more disadvantaged backgrounds (17%) are less than half as likely to enter higher education as other children (35%).
The reading skills of the highest-performing 15-year-olds from poor backgrounds are, on average, about two years behind the highest-performing pupils from privileged backgrounds.
Only a quarter of boys from working-class backgrounds take up middle-class (professional or managerial) jobs.
Free School Meal (FSM) students are at least 3 times more likely to be permanently excluded than their peers, twice as likely to have a Special Educational Needs statement and are more likely to change schools. They are also more likely to have literacy and numeracy problems.
Schools are able to decide how to best use the Pupil Premium in order to meet the particular needs of their disadvantaged pupils. Some common ways in schools spend their funding are listed below (Ofsted, September 2012).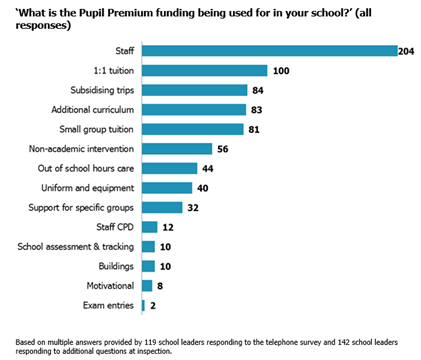 Please refer to our Pupil Premium Spending Strategy 2020-21 link for detail of how we plan to use Pupil Premium funding this academic year. To be reviewed in October 2021.
To view our 2019-20 Pupil Premium Strategy Impact Report follow the link here.
November 2021
| M | T | W | T | F | WE |
| --- | --- | --- | --- | --- | --- |
| 1 | 2 | 3 | 4 | 5 | 6 |
| 8 | 9 | 10 | 11 | 12 | 13 |
| 15 | 16 | 17 | 18 | 19 | 20 |
| 22 | 23 | 24 | 25 | 26 | 27 |
| 29 | 30 | | | | |